Kansas City University (KCU) held the Commencement Ceremony for 362 osteopathic physicians and scientists on Saturday, May11, 2019, at Kansas City's Municipal Auditorium. The Class of 2019 represents the largest class in the University's 103-year history.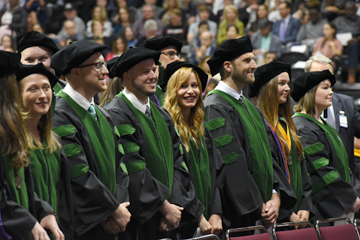 KCU conferred the degree of Doctor of Osteopathic Medicine upon 235 graduates, several of whom concurrently earned dual- or triple- degrees that included a master's degree from KCU's College of Biosciences (COB) and Rockhurst University Helzberg School of Management.
Additionally, the University conferred upon 127 graduates the degree of Master of Science in biomedical sciences.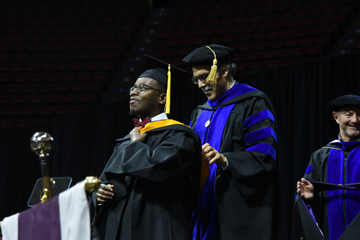 Marc B. Hahn, DO, President and CEO of KCU congratulated the graduates on their many years of hard work and dedication and noted the outstanding company they will keep as alumni of KCU.
"As you graduate today, you will join more than nine thousand physicians and scientists from this University practicing all across the U.S. You will become part of an alumni base that has a national economic impact of more than $33 billion a year, and supports more than 180,000 jobs," Hahn said.
William Mayo, DO, president of the American Osteopathic Association and alumnus of KCU, delivered the keynote speech. Mayo noted the growth of the osteopathic medical profession and the success achieved by KCU graduates during the matching process for acceptance into graduate medical education residency programs across the country.
"Today one in four medical school graduates comes from an osteopathic college. This year 99.57 percent of you matched into a residency program. Clearly, your distinctive education and philosophy is recognized and valued," Mayo said. "The number of DOs has tripled in the past 30 years. There are now nearly 145,000 DOs and osteopathic medical students. We now represent more than 11% of the physicians in the U.S. and more than 20% of family physicians."
In the days leading up to the ceremony, the University recognized several outstanding students for their exemplary performance throughout their four years as KCU students.
Gregory John Starsiak, Jr., President's Award
Makenzie Hamilton, Dean's Award
Nicholas Sullivan, Student DO of the Year
Chase Thomas Hobbs, Silver Stethoscope Award
Gregory Scott Brittenham, Jr. and Elizabeth Jayne York, Gold Stethoscope Award
Logan Joseph Brau, Sir William Osler Outstanding Student Award for Bioethics,
Aaron Keith Bartoe, COB Student of the Year Award
Chole Nagasawa, Research Track Student of the Year Award.