Current University Status -
8/06/20
KCU faculty and staff are now in Stage 3 of the Reawakening plan.
COVID-19 weekly testing is underway on the KCU Campuses. More information.
With the rise in COVID-19 cases, and our classes going back to campus, KCU leadership is asking that students and employees adhere to the Coronavirus Riskiest Activities Chart. For the fall semester, please strictly limit activities within the Moderate Risk group, and stay away from activities in the High Risk group.
Protect Each Other
As Kansas City University (KCU) continues the process of gradually reawakening our campuses for the 2020-2021 academic year, we do so with a request: Protect Each Other.
COVID-19 and the current global pandemic have reshaped higher education as a whole, but KCU remains dedicated to providing high-quality education even in unprecedented times. While the University will continue to implement virtual learning and remote work whenever possible, there are aspects of advanced health sciences education (for both academic and administrative activities) that necessitate physical attendance. As some members of the KCU family return to campus, we must – above all else – make the health and safety of our fellow students, faculty, staff and their respective families the driving factor behind our daily choices.
Follow all guidelines -- wear a mask, maintain social distancing, and avoid inside gatherings.
Keep in mind how your choices impact those around you.
Protect Each Other.
---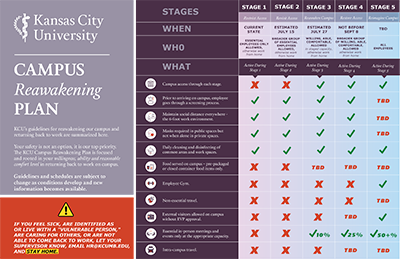 As we chart the path forward for the 2020-2021 academic year, Kansas City University's prime concern is for the safety and well-being of students and employees.
The Ad Hoc Committee for the Reawakening for the Campus continues to prepare plans and protocols for safe return to our campuses in a staged approach. The timing is and will continue to be based on guidance by local, state and federal orders and an ongoing monitoring and assessment of our surrounding communities. We will be prepared to change course as needed based upon the public health environment with possible tightening and loosening of restrictions to ensure the safety of our students, faculty and staff.
---
Message from the President
August 7, 2020
Minimizing Our Risk of COVID-19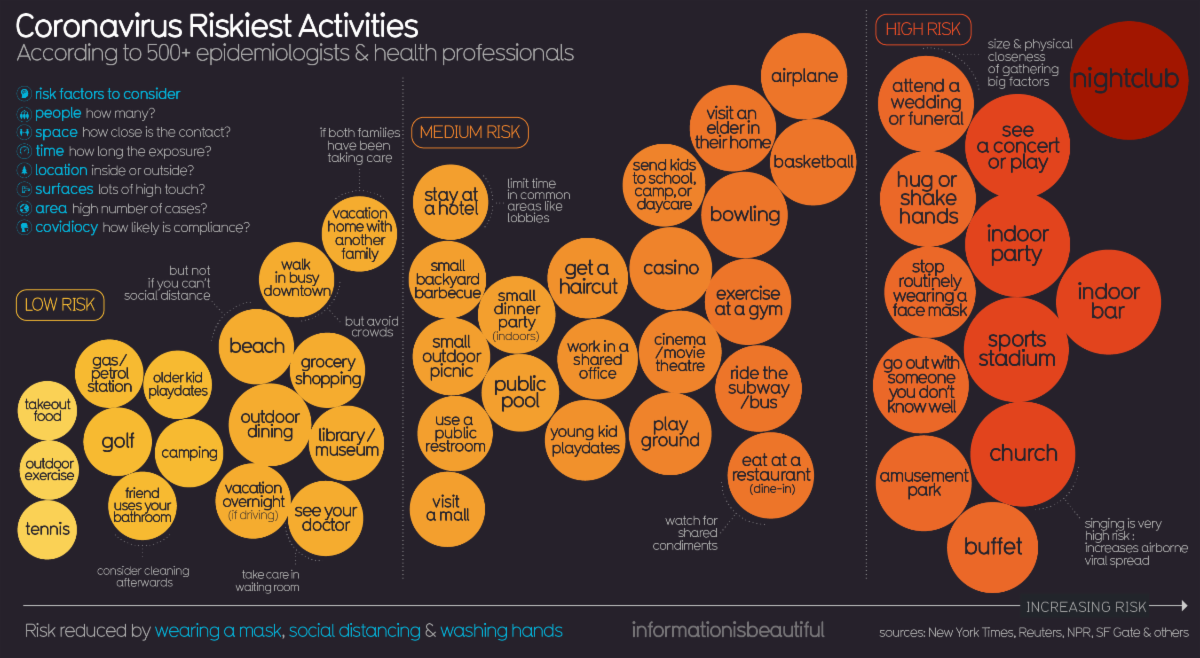 We caution those considering medium-risk activities and strongly discourage any high-risk activities, including:
any inside gathering of 10 or more people in a confined space where CDC social distancing and PPE guidelines are difficult to adhere to; and
going where you are unfamiliar with the people with whom you are interacting (restaurants, bars, nightclubs, gyms, concerts, plays, sporting events and even religious venues).
This weekend be sure to:
wear a mask;
avoid indoor groups;
maintain physical distancing; and
stick to your group.
The virus is spreading in our surrounding communities. We must tighten down all of our activity to keep things stable until the end of this semester and assure we:
maintain our accreditation status;
keep our academics on course; and
maintain stability for our employees.
I thank each of you for your dedication to one another and to the greater good of our university.
Yours truly,
Marc B. Hahn, DO
President and Chief Executive Officer
Messages From Leadership
| | |
| --- | --- |
| 7/31 | Update from Dr. Marc Hahn, KCU president and CEO, welcomes students back to campus, and outlines what we can do to protect each other from COVID-19. |
| | |
| 7/10 | Update from Dr. Marc Hahn, KCU president and CEO, about the reawakening of our campuses and students' return to KCU. |
| | |
| 7/04 | An editorial written by Dr. Marc Hahn, KCU president and CEO, was published in The Joplin Globe on July 4, 2020. |
| | |
| 6/26 | Update from Dr. Marc Hahn, KCU president and CEO, about Campuses Health Guidelines and Safety Protocols for the reawakening of our campuses and students' return to KCU. |
| | |
| 5/29 | Dr. Edward O'Connor, provost and vice president for Academic, Research and Student Affairs, and Joe Massman, executive vice president for Finance and Operations and CFO/COO, outline the plan for KCU employees to return to a work environment as it existed before the pandemic. |
| | |
| 5/22 | Update from Dr. Marc Hahn, KCU president and CEO, on the initial plans for the reawakening of our campuses and students' return to KCU. |
| | |
| 5/15 | Message to the KCU community from Dr. Marc Hahn, KCU president and CEO, on the initial plans for the reawakening of our campuses and some key decisions about the students' return to KCU. |