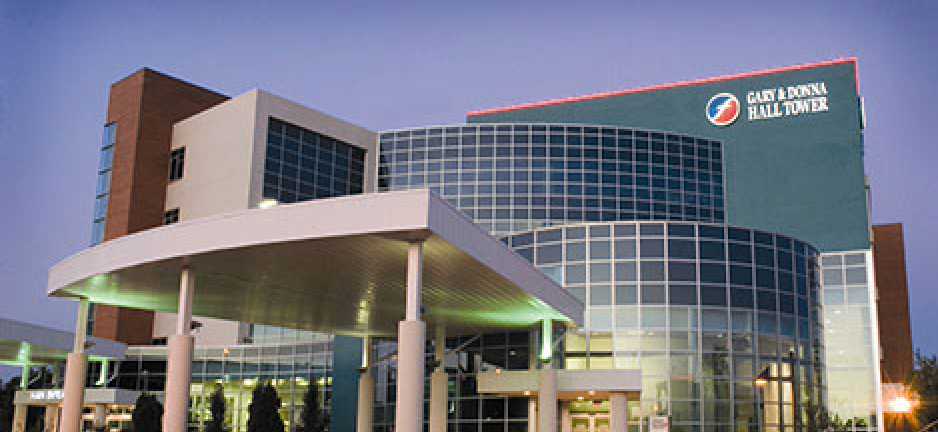 Photo Credit: Don Wilkinson
---
Based in Joplin, Mo., Freeman Health System provides comprehensive healthcare and behavioral health services, including cancer care, heart and vascular care, neurosciences, orthopaedics and women's services. The area's only locally owned, not-for-profit health system, Freeman has more than 300 physicians representing 60 specialties serving southwest Missouri, southeast Kansas, northeast Oklahoma and northwest Arkansas.
The health system is licensed for 517 beds and serves a population of 350,000 – 400,000. Freeman has been recognized by Solucient as a "100 Top Hospital" in the teaching category.
School Affiliation
AT Still Kirksville College of Osteopathic Medicine
KCU College of Osteopathic Medicine.
Hospital Statistics
Total Beds - 348
Admissions - 19,670
ER Visits - 45,204
Births - 2,646
Inpatient Surgery - 4,620
Outpatient Surgery - 9,198
DOs on Staff - 69
MDs on Staff - 212
Third-Year Clerkships
Family Medicine (1 month) - Inpatient/Outpatient
Internal Medicine (2 months) - Inpatient
Ob/Gyn (1 month) Inpatient/Outpatient
Pediatrics (1 month) Inpatient/Outpatient
Psychiatry (1 month) Inpatient/Outpatient
Surgery (2 months) - Inpatient
This site schedules clinical experiences in one month increments.
Third-Year Selectives
Anesthesiology
Cardiology
Emergency Medicine
ENT/Otolaryngology
Hematology/Oncology
ICU/Critical Care
Infectious Disease
Internal Medicine
Neurology
Neurosurgery
NICU
Orthopedics
Otolaryngology/ENT
Physical Medicine & Rehab
Psychiatry
Pulmonary Medicine
Radiation Oncology
Radiology
Wound Care
Availability of all third-year selectives listed above varies based upon placement of fourth-year students and residents
Fourth-Year Clerkships
Anesthesiology
Cardiology
Emergency Medicine
ENT/Otolaryngology
Hematology/Oncology
ICU/Critical Care
Infectious Disease
Internal Medicine
Nephrology
Neurology
Neurosurgery
NICU
Orthopedics
Otolaryngology/ENT
Pathology
Physical Medicine & Rehab
Psychiatry
Pulmonary Medicine
Radiation Oncology
Radiology
Wound Care
Residency Information
Internal Medicine
Emergency Medicine
ENT
Resources & Benefits
Facility Resources: Students have access to computers, dining room, internet, medical library, phones, printers, secured storage area, study space and WiFi while on duty at the hospital
Meal Benefits: Students receive food and beverage from the cafeteria while on duty
Visiting Student Housing: Housing is available to visiting students at a reduced rate
Duties & Opportunities
Student Duties: Students are required to participate in weekend call
Didactic Opportunities: Students are required to participate in morning report, lectures, patient rounds and required reading as assigned
OMT/OPP Opportunities: Students are required to participate in the monthly OMM Lab held on the KCU-Joplin Campus
Unique Site Characteristics
Background check and drug screen required third year only (on-site drug screen may also be required)
BLS and ACLS certifications must be current
Curriculum Vitae (CV) must be submitted prior to Clerkship Match
Global Track Students must communicate third-year clerkship obligations to site as soon as the Clerkship Match Process is finalized
Military Track Students must communicate third-year clerkship obligations to site as soon as the Clerkship Match Process is finalized
Orientation provided prior to the first clerkship

NBOME COMAT Subject Exams are proctored at the KCU-Joplin Campus

TB Screening required annually (two-step)
Additions or changes to this site's information may occur at any time - information last updated 10/7/19
Contact Information
KCU Clinical Clerkship Coordinator: Angela Imes
Core Site Contact: Stephanie Lea
Director of Medical Education: Robert McNab, DO