INTEGRIS Southwest Medical Center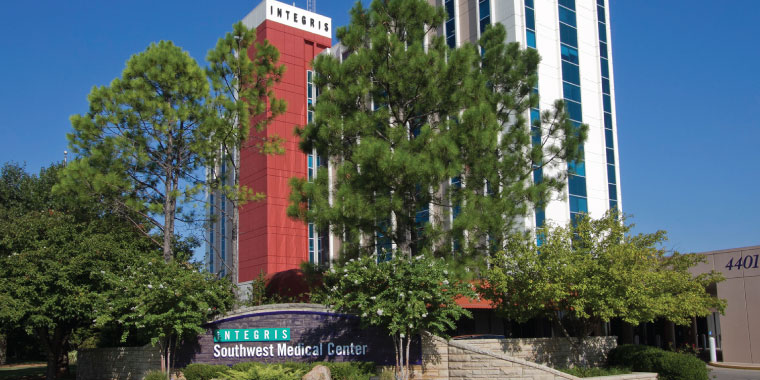 ---
As the state's largest not-for-profit and Oklahoma-owned health care system, INTEGRIS has twelve entities across the state designed to help improve the health of the people and communities that we serve. Our centers of excellence (fertility, cancer, heart, rehab, stroke, sleep disorders, transplant, burn, neuromuscular and breast health) use state-of-the-art technology and are led by highly skilled, experiences and caring individuals who are committed to staying at the forefront of best practices in patient care. INTEGRIS is also a proud member of the Mayo Clinical Care Network which offers our providers a renowned resource to compliment the innovative and leading edge care patients have grown to expect from INTEGRIS. The primary site for our medical student rotations will be INTEGRIS Southwest Medical Center.
Site Focus:
School Affiliations
Oklahoma State University College of Osteopathic Medicine
KCU College of Osteopathic Medicine
Hospital Statistics
Total Beds - 334
Admissions - 11,610
ER Visits - 76,099
Births - 1,182
Inpatient Surgeries - 1,972
Outpatient Surgeries - 2,701
DOs on Staff - 134
MDs on Staff - 361
PhDs on Staff – 4
Third-Year Clerkships
Family Medicine (1 month) - Outpatient
Internal Medicine (2 months) - Inpatient/Outpatient
Ob/Gyn (1 month) - Inpatient
Pediatrics (1 month) - Inpatient
Psychiatry (1 month) - Inpatient
Surgery (2 months) - Inpatient/Outpatient
This site schedules clinical experiences in one month increments.
Third-Year Selectives
Cardiology
Critical Care
Emergency Medicine
Family Medicine
Gastroenterology
Internal Medicine
Nephrology

Ob/Gyn
Pediatric Critical Care
Pediatrics
Psychiatry
Pulmonary Medicine
Radiation Oncology
Surgery
Fourth-Year Clerkships
Emergency Medicine
Gastroenterology
Nephrology
Pediatric Critical Care

Pediatrics
Pulmonary Medicine
Radiation Oncology
Residency Information
Emergency Medicine
Family Medicine
Radiology
Fellowship in Hand Surgery
Resources & Benefits
Facility Resources: Students will have access to computers, internet, lounge, medical library, medical records, phones and printers while on duty at the hospital
Meal Benefits: Meal cards are provided with a $20 daily limit
Visiting Student Housing: Housing unavailable at this time
Duties & Opportunities
Student Duties: Students are required to participate in weekly rounds as assigned
Didactic Opportunities: Students are required to participate in all available opportunities
OMT/OPP Opportunities: Opportunities for skill development in OMT/OPP are provided in the clinical setting during family medicine experiences
Unique Site Characteristics
Background check and drug screen required annually

NBOME COMAT Subject Exams are proctored at this core site

Global Track Students must communicate third-year clerkship obligations to site as soon as the Clerkship Match Process is finalized
Military Track Students must communicate third-year clerkship obligations to site as soon as the Clerkship Match Process is finalized

MMR vaccines (2) or positive titer and varicella vaccines (2) or positive titer required

Orientation provided on the first day at core site
Rotation verification form and confidentiality agreement required
TB screening required annually (two-step)
TB Mask Fit offered on-site

Travel may be required for third-year Clinical Skills Assessment (CSA)
Additions or changes to this site's information may occur at any time - information last updated 10/4/19
Contact Information
KCU Clinical Clerkship Coordinator: Jake Jagneaux
Core Site Contact: Cindi Ruegge
Medical Director, Education: Chelsey Gilbertson, DO
Clerkship Director: Heidi Metheny, DO