From the Desk of the President
April 2018
Marc B. Hahn, DO
President and Chief Executive Officer
Greetings KCU Family:
KCU is fortunate to be represented by a remarkable cadre of leaders who seek to improve their communities and the lives of others. As alumni, faculty, administrators and trustees, their commitment takes many different forms, but the common theme remains: to inspire, educate and effect positive change through their wide and diverse contributions. In our April newsletter, we recognize a few of the many individuals whose actions illustrate that commitment and the impact they have.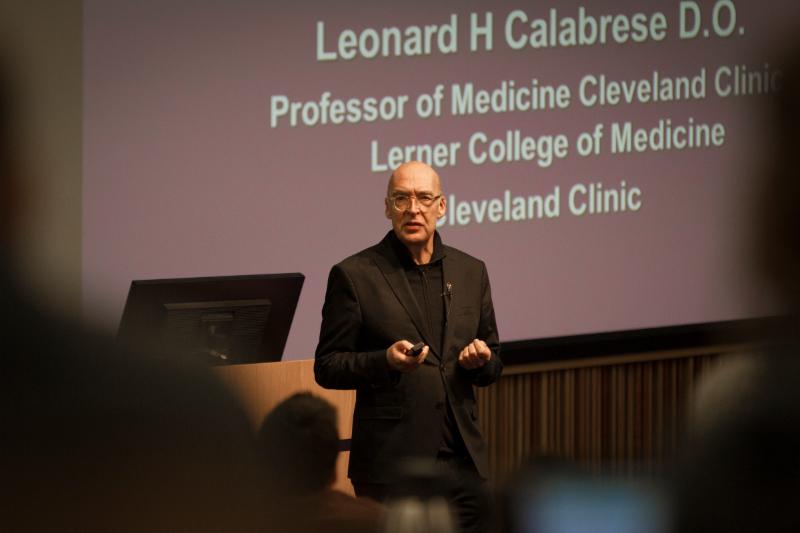 Len Calabrese, DO, Discusses Empathy Research
KCU alumnus and trustee, Dr. Leonard Calabrese (COM '75), visited our campus March 28 to present aspects of his research on empathy, compassion and mindfulness in the healing arts. By Calabrese's own admission, empathy in medicine is a hot topic, and he hypothesizes that empathy, resilience and mindfulness lead to better care and better caring. In support of his hypothesis, he provides thought-provoking statistics and dialogue, and touches on the challenges of gaining and, especially, maintaining empathy in patient care. Calabrese's inspiring lecture can be viewed on YouTube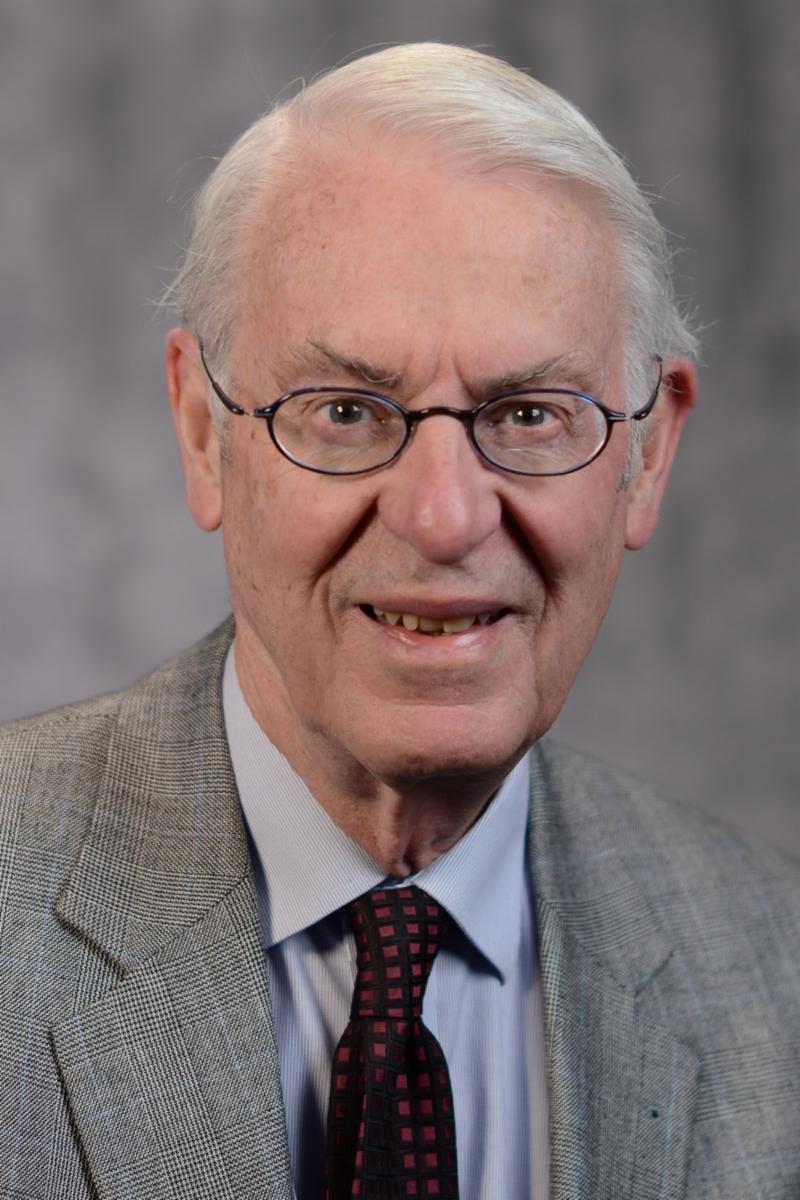 Larry McIntire, DO, Receives Lifetime Achievement Award
In recognition of his years of service and generosity to MidAmerica Nazarene University (MNU), Dr. Larry McIntire, regional assistant dean of KCU-Joplin, was honored with MNU's 2018 Lifetime Achievement Award. McIntire has served as chairman of MNU's Board of Trustees and supported the school's efforts for a number of years. Many are familiar with McIntire's instrumental role as president of the Joplin Regional Medical School Alliance, the guiding force in bringing KCU's Farber-McIntire campus to Joplin, Missouri. He is also recognized for furthering opportunities for MNU graduates to attend medical school at KCU. Read more about his award.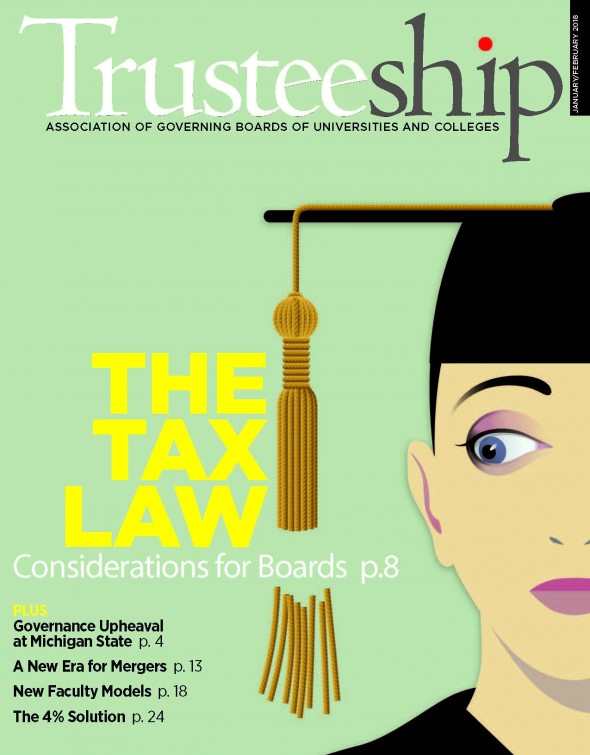 KCU Board Chair Shares Strategy for Board Engagement in Trusteeship
John P. Smith, DO (COM '75), chair of the KCU Board of Trustees, understands the unique challenges faced by board members coming from a variety of professional backgrounds and disciplines. In seeking to build and lead a strong, well-informed board tasked with serving KCU and its stakeholders, Smith introduced an innovative method to educate and keep board members up to date on key industry topics and trends. This approach is discussed in the Jan/Feb 2018 issue of Trusteeship. The "Journal Club" provides a forum that encourages group dialog, while improving knowledge of current issues in medical education through guided discussion.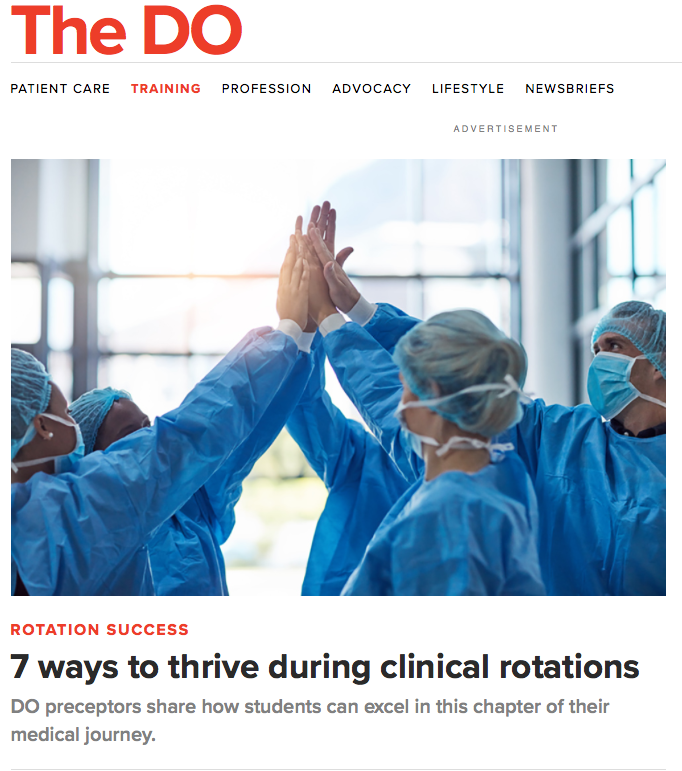 Clinical Rotation Tips from Jozi McGowan, DO
Moving from the classroom into rotations is a big step in a student's medical education. Shining throughout rotations is a great way to impress program directors, attending physicians and hospital staff, all improving a student's chances of successfully landing a residency. KCU Assistant Professor and Preceptor Jozi McGowan, DO, and others share helpful tips for making a positive, lasting impression. Read more in The DO.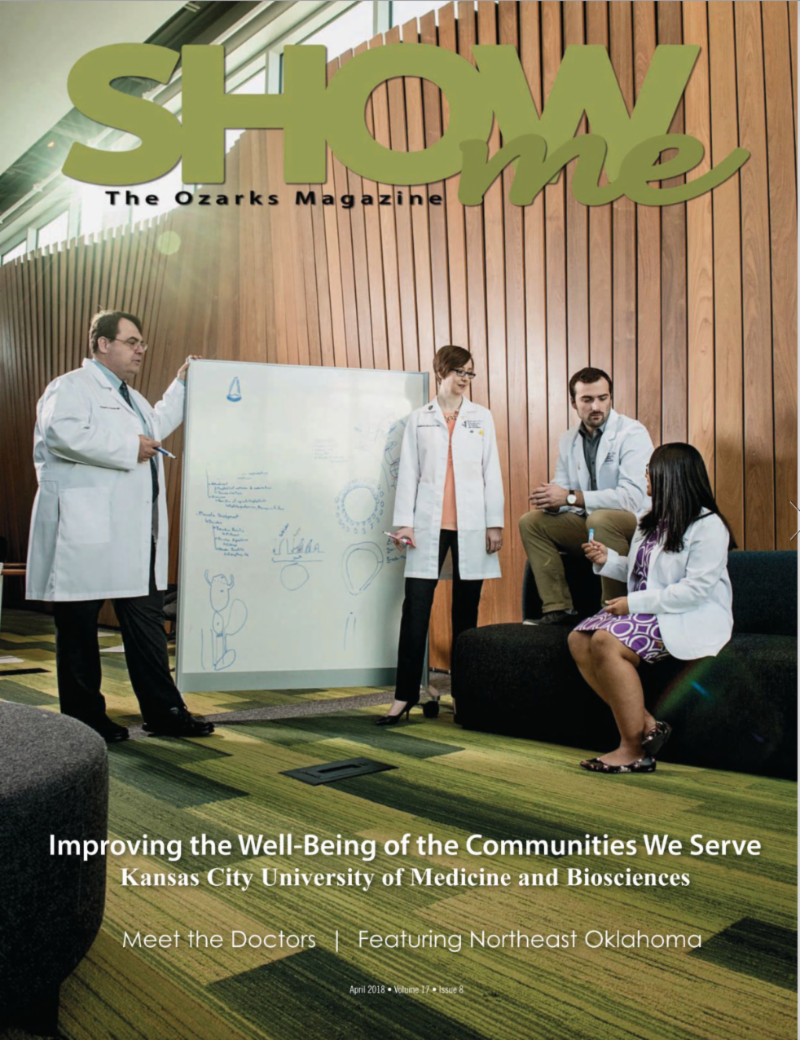 Show Me The Ozarks Cover Story Features KCU-Joplin
The cover story in regional publication Show Me The Ozarks discusses life in the classroom and on campus from the viewpoint of KCU-Joplin students and faculty. The article touches on the impact our school and students will have on advancing KCU's mission of improving the well-being of the communities we serve in the southwest Missouri region. Read about it in the latest issue.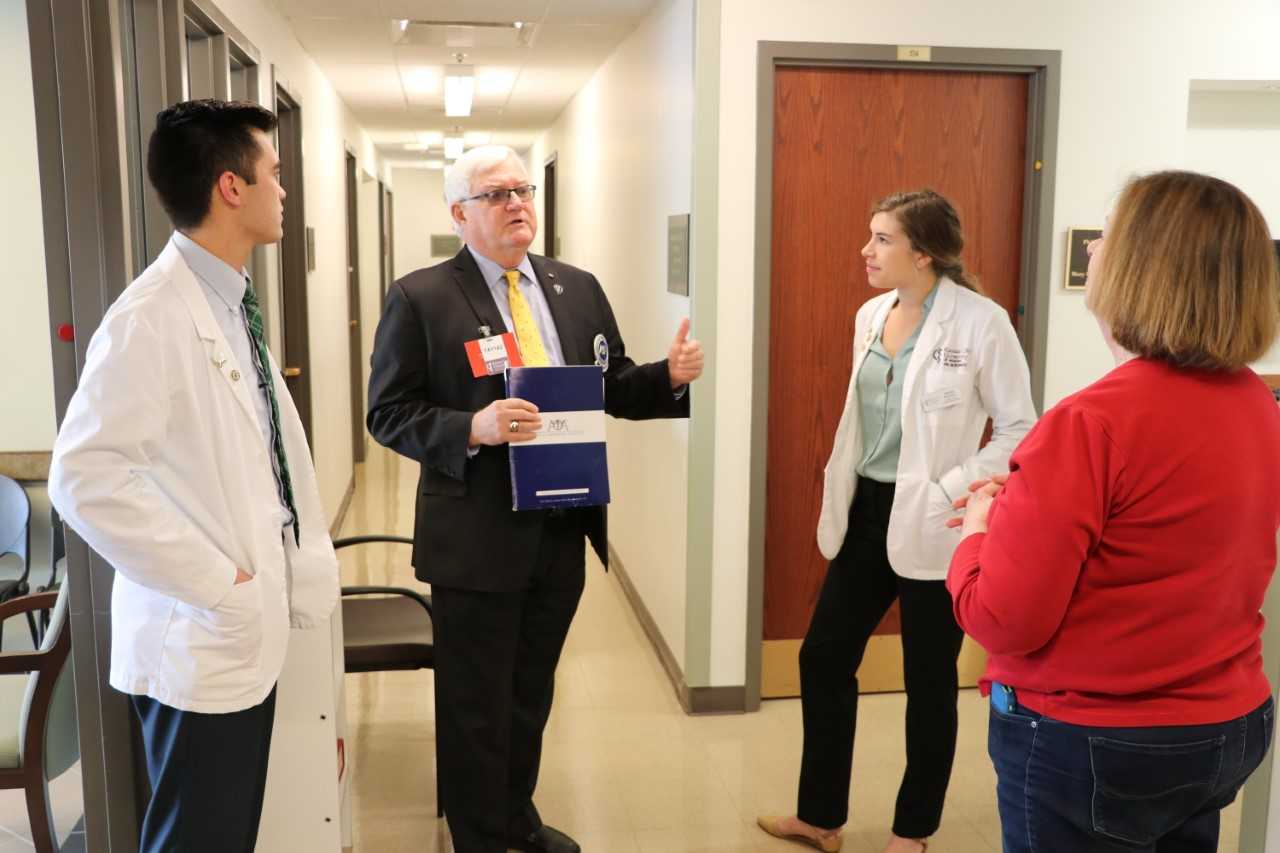 AOA President Dr. Mark Baker Discusses Future for DOs
Mark Baker, DO, president of the American Osteopathic Association (AOA), visited KCU to share a very optimistic outlook on the future of osteopathic medicine. Baker presented the association's mission and strategic plan, and reinforced the importance of the AOA as a strong advocate for the profession, encouraging student engagement through the Student Osteopathic Medical Association (SOMA). Read more and follow the link to a YouTube video.

KC Business Journal Recognizes KCU Leadership
Success of an organization is dependent upon the hard work and effort of a team. I was both humbled and honored this month being recognized as a "2018 Power 100" from the Kansas City Business Journal. This recognition was based on the growth and success of KCU over the past five years. And this success has been truly a team effort from our trustees and clearly through our faculty, staff and students. I am grateful for the contributions of the entire KCU family — for both this recognition and the success of our university and our graduates.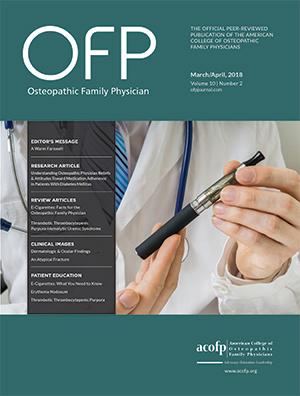 Student/Faculty Research Looks at Impact of E-Cigarettes
KCU medical students Andrea Perloff and Katie Smeltzer, along with faculty members W. Joshua Cox, DO, and Gautam Desai, DO, published the article, "E-Cigarettes: Facts for the Osteopathic Family Physician," in the March/April issue of Osteopathic Family Physician Journal. The article discusses the e-cigarette phenomenon, details some of the health risks, and cautions physicians to be aware and counsel patients accordingly. View the abstract. With a subscription to the journal, the entire article may be viewed.