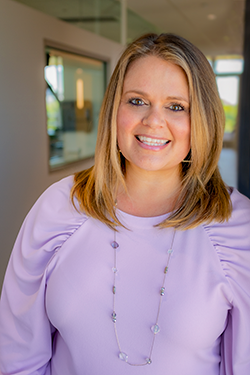 Julie Deane, director of Human Resources, was awarded the Annual Excellence Award by the College and University Professional Association for Human Resources (CUPA-HR) at a virtual award ceremony on June 16, 2021.
The award honors transformative HR work in higher education, recognizing individuals or teams who have provided HR leadership resulting in significant and ongoing organizational change within their institutions. More specifically, Julie was recognized for her:
HR leadership.
HR programs development and impact.
Innovative approach.
Improved performance in key HR functional areas.
CUPA-HR also donated $1,000 to KCU to celebrate Julie's recognition as one of the four regional winners in the nation.
"The role of Human Resources in any organization is important and ongoing – and this is truer today more than ever, as the past year has put us all to the test in many ways we never imagined," Deane said. "I truly believe that HR acts as a powerful change agent and advisor to organizational leaders. But this work requires the full support of senior leaders and the full involvement of the HR team to pull together the people and resources needed to make new programs and transformation efforts a success. We couldn't have accomplished everything we set out to do without the support of my leader and my fantastic team."
About CUPA HR
CUPA-HR is the leading nation-wide association for HR professionals in higher education with 31,000 HR professionals and higher education leaders at more than 2,000 member higher education organizations.