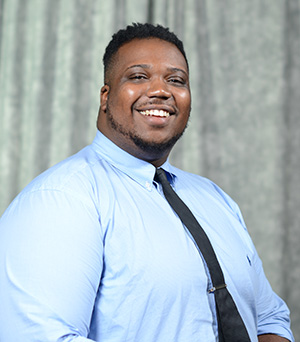 As the call progressed, D'Angeleau Newsome wasn't sure what to make of it. It was just a random Tuesday, as Newsome described it, and his former music ensemble director in Atlanta was speaking conspiratorially.
"Everything he was about to tell me was confidential," Newsome recalled. "I couldn't tell anyone, it was like a non-disclosure agreement on the phone, that was clear." Finally, the director got to the point. "He told me that the ensemble had been invited to play at the Super Bowl LIII halftime show with Maroon 5, and that if I wanted to go, I had a spot."
Newsome, a student in the Master of Science of Biomedical Sciences program, has medical school in his sights, but he has played music since he was a child. He picked up the drums at the age of 15, mastered them quickly, and played and taught drums for the high power Equinox Percussion group, a nonprofit ensemble in Atlanta. Drumlines like Equinox play technically demanding musical rhythms—and must remain in exquisite sync—all while performing complex marching and choreography moves.
While the immediate reaction most musicians offered a gig at the Super Bowl would be to book a flight instantaneously, Newsome's response was uncannily measured.
"D'Angeleau was super excited, but he was worried about his coursework and having to miss class, so we talked about procedures and things he would have to do to catch up," recalled Dr. Robert Walker, associate professor of physiology in the College of Biomedical Sciences. "His dream of becoming a doctor is so important that he was willing to sacrifice playing in the Super Bowl. That spoke volumes to me about how motivated and determined he is to make it, and to achieve his aspirations."
On game day, after getting suited up, Newsome and the ensemble took the field. "The stadium is gigantic, and it's almost unfathomable, the feeling of seeing such a huge crowd. The players are across the way, and you're about to perform in front of 80,000 people. Then there's hundreds of millions more watching," Newsome recounted. "But strangely, we didn't really freak out about it. There were a few jitters, but once the show started to roll we were just elated. We couldn't stop smiling at each other, and we tried to soak in the entire experience. It was a once in a lifetime kind of feeling." The Equinox performance was flawless.
At a glance, playing in a drumline and pursuing a career in medicine may not seem to have much in common, but Newsome says the discipline of learning intricate percussion pieces is integral to his academic success.
"It's transformed the way that I take on tasks and challenges, being able to systematically break them down in order to achieve the goal," he said. "You perfect the smallest details, and then zoom out to the macro view to see how everything works together."
Newsome's original desire to become a doctor was spurred by his mother's chronic illness, but he also recognizes the historic and social importance of his ambition to study medicine. Dr. Walker points out an alarming statistic: Between 1978 and 2014, the number of black males entering medical school decreased by 25 percent.
"D'Angeleau is going to be a much-needed role model, and I think he can be a phenomenal physician, one that will change communities, change environments, and have an impact." Dr. Walker said.
As further incentive to become a doctor, Newsome mentions an image of a photograph of a 1959 letter he saw recently, from Emory University to Mr. Marion Gerald Hood, rejecting Hood's application to medical school because he was black. "That gives me a little more fire within, and dedication, to try to carry on the legacy for those who weren't able to have this opportunity," Newsome said. "Hopefully, I can be steadfast and do well enough to get there."
So far, the prognosis is good. After pulling a 4.0 GPA in his first semester at the College of Biomedical Sciences, Newsome is looking forward to an interview next month for the College of Osteopathic Medicine, and the possible fruition of his long-held dream. "D'Angeleau is taking this experience very seriously, and made a lot of sacrifices, and hopefully this will be a pipeline for him to go from the COB to the COM," said Dr. Walker.
Newsome is leaving as little to chance as possible. "I'm not thinking about a Plan B yet. I came in here with a mindset that I was going to kill it, and that's what I'm trying to do."